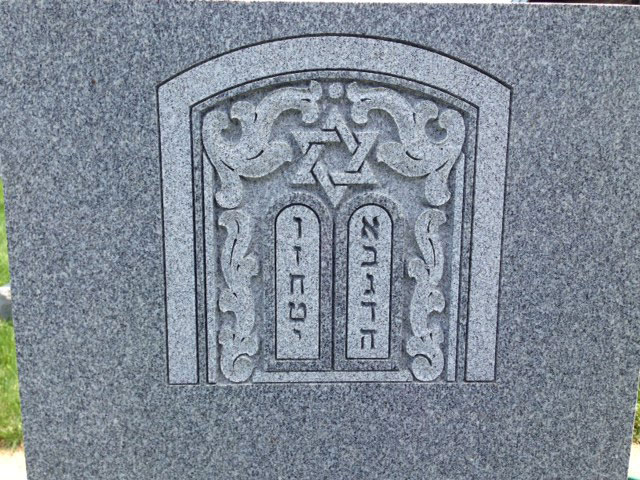 At St. Charles Monuments, of Long Island, New York, we have years of experience in creating Jewish Monuments and Memorials. Our Jewish Monuments are hand crafted and available in many different styles. We offer a wide selection of Jewish single monuments, family monuments, foot stones and double headstones. We also have proper expertise on adhering to traditional Jewish services, such as Yahrzeit candles and the unveiling ceremony.
Below is a list of the most common symbols found on Jewish Monuments:
Menorah: The menorah is a candelabrum which includes seven branches to hold each candle. The symbolic meaning behind the menorah, represents the nation of Israel and its mission to be a light to the nations. The menorah is one of the oldest symbols of Judaism. On jewish headstones, the menorah symbolizes the deceased persons commitment to their faith. Menorah's are most commonly found on a women's headstone.
Tree of Life: The tree of life symbolizes the path of god and his creation of the world. On Jewish headstones the tree of life describes the central mystical figure which is used in esoteric Judaism.
Torah:The word Torah has two meanings the first being the five books of moses. The second meaning uses the word to represent the entire body of Jewish scriptures. When placing the Torah onto a monument it represents learning, growth and the guidance of god. Placing a torah onto the headstone is also common for people who studied the Torah.
Star of David: This symbol is the most recognized Jewish symbol, especially because it appears on the flag for the nation of Israel. The meaning behind the Star of David comes from King David's shield. Using this symbol on your monument is simply expressing your cultural beliefs.
Two Hands: On monuments two hands represent the blessing of the Cohen which is hebrew for priest. The position of fingers also have different meanings. For example, two hands with outspread fingers, indicate the deceased person was a descendant from priestly stock.
There are many different symbols that you can find on headstones, however these are the most common. St. Charles Monuments is located on the same side of Beth Moses Cemetery, of Long Island. We are also less than a 100 feet away from the Wellwood Cemetery. We have long standing relationships, with all of the Jewish cemeteries located on Long Island. If you have any questions or would like to order a traditional cemetery contact us here.