Preserving Your Jewish Heritage
At St. Charles Monuments of Long Island, we offer a wide variety of Jewish monuments, foot stones, memorials, headstones and etchings. Our team of experts will work with you, to make sure everything looks perfect, while preserving your Jewish heritage. All of our monuments are customized with Jewish symbols and inscriptions.
We will help guide you in the right direction when choosing headstone materials and styles. We have over 50 years of experience helping those in need of traditional Jewish designs, as well as specifications on what is allowed at your local cemeteries. We are located right near two major Long Island cemeteries, we're just south of the Beth Moses Cemetery on the same side of the street. We are also less than a hundred feet from the Wellwood Cemetery.
When a loved one passes away, it can be a difficult time. Our goal is to make the ordering of a memorial, as easy as possible. If you have a family plot in the cemetery and would like to purchase a matching foot stone, you may call our office and we will go to the cemetery to inspect the existing foot stones. We pay attention to size, detail and the overall finish of the monument. We will also provide you with a computerized layout, to be sure you are completely satisfied with the memorial.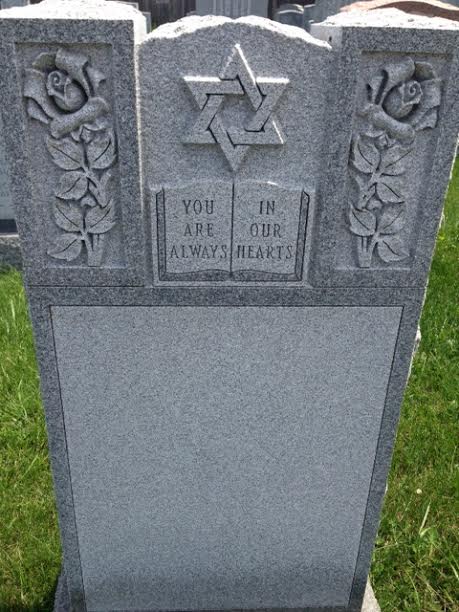 Single Jewish Headstones
Single Jewish headstones serve as a testament to the uniqueness of the departed. In order to express that, there is typically more room on a single headstone for inscriptions or symbols. A second single stone can be created in the future. This stone will match the original.
The inscription of a single Jewish headstone will read the individual's name, beloved wife, or husband etc. Following that will be the date of birth and death, and a special epitaph. There is also more room allowed for symbols and prayers. The inscription can vary, but should be very representative of the individual. St. Charles Monuments offers single Jewish headstones that are beautifully crafted, and serve as a testament to tradition and expression of faith.
Double Jewish Headstones
Double Jewish headstones symbolize lives shared in unity. They depict the idea that arrangements for the loved one's spouse have already been taken care of. Double Jewish headstones are meant to offer a sense of peace to the spouse and family of the departed.
The headstone will normally include the family name at the top of the monument. Underneath that will be two separate epitaphs. On each side will be the traditional inscriptions describing each person and their information. We have a selection of double Jewish headstones that will express the faith of the family with beautiful design and respect to tradition.
Jewish Headstone Inscriptions
Matzevah is the Hebrew word for the practice of inscribing text to a gravestone. This is done to provide remembrance of an individual who has passed away. Gravestone inscriptions are important in Judaism because of the belief that the physical world is only a transition for the spirit world. The belief is that because the soul continues to live after this life, remembrance of the deceased is important. It is Jewish tradition that burial is not completed until the inscription has been finished.
The Jewish epitaph contains information that is typically inscribed directly into the tombstone in a specific order. First is a Hebrew acronym that stands for "here is buried." Underneath that will be the deceased's given name, followed by their hebrew name. Next is inscribed the deceased's date of death, sometimes with the date of birth as well. Jewish monuments may also include a brief description of the deceased as well as a quote from a prayer written in hebrew letters. Jewish headstones traditionally close with another acronym meaning "may his (or her) soul be bound in the bond of everlasting life". There are no specific Jewish regulations regarding the sizes and types of foot and headstones, however cemeteries do have specific rules.
Traditional Jewish Headstone Symbols
It is customary for Jewish headstones to include inscriptions of hebrew symbols or pictures. Usually these symbols tell a story or have a deep, spiritual meaning. Much like text inscription, a symbol on a Jewish headstone is a way to honor the memory of the deceased. Oftentimes, the symbol inscribed on a Jewish headstone will depict the deceased's interests in life, family heritage, or the age at which they passed away.
Some symbols will indicate the person's faith, like an inscription of a menorah, and others will depict who they were in their life. The Star of David is a common symbol for the grave of a Jewish man. A monument in the shape of a tree stump or with a broken branch indicates that the deceased was young. Another example of a symbol for someone who died young is that of a broken candle. There are hundreds of different kinds of Jewish symbols that can be inscribed into the headstone of your loved one.
Sitting Shiva
Another part of the traditional mourning is sitting Shiva. Shiva (seven) includes participation from parents, spouses, children and siblings. All of the family members will sit together in the deceased persons home, for seven days after the burial.
To prepare for sitting Shiva, it's important to keep the front doors unlocked, in order to avoid noise and keep the peace. Also, you should have a candle burning for the full seven day period, starting as soon as you return from the cemetery. All mirrors in the house should be covered, this is to avoid worrying about the way you look, and focusing on self reflection. Many people will keep a pitcher of water outside for cleansing. The cleansing is for visitors to wash their hands before entering the home. You may also want to designate a spot for people to keep their shoes because they are not permitted in the home during Shiva (also avoid wearing leather shoes).
Unveiling Ceremony
Our packages include a special cloth for the monument to be covered with. Typically, the monument is covered, for at least 30 days after the burial. The Unveiling Ceremony, usually happens around 11 months after death. Most families will wait until 11 months have passed for the ceremony, in some cases it may be done earlier. These decisions are normally made at the Rabbi's discretion.
During an unveiling ceremony you can expect:
Recitation of Psalms.
A brief eulogy.
The uncovering of the Headstone.
The El Maleh Rahamim Prayer.
The Mourner's Kaddish Prayer.
Questions?
We have a vast knowledge of all Jewish cemeteries rules and regulations in the Long Island, New York area. Please contact us with any question or concerns, you may have with choosing the right location and materials.