Inscriptions, Bases & Cleanings
At St. Charles Monuments, our team of memorialists understand that providing a service is not a right but a privilege. Every service we provide is with attention to detail and proper care. Contact us for any need you may have for an existing headstone or monument.
Add a New Inscription to a Monument
An inscription is needed when a monument is already placed in the cemetery but now needs new lettering engraved. St. Charles Monuments is able to inscribe most memorials on site. Not having to remove the monument from the cemetery helps to keep the cost low, as well as our time frame. As a premier Long Island memorial company we take pride in completing our work in a timely fashion.
Our completed inscriptions will match any existing size and format. When an inscription order is placed, St. Charles Monuments will send a trial of how the new lettering will appear on the headstone. We will keep you informed during each step of the process until the inscription is completed. At St. Charles Monuments we understand adding new lettering is just as important to a loved one as a new monument would be.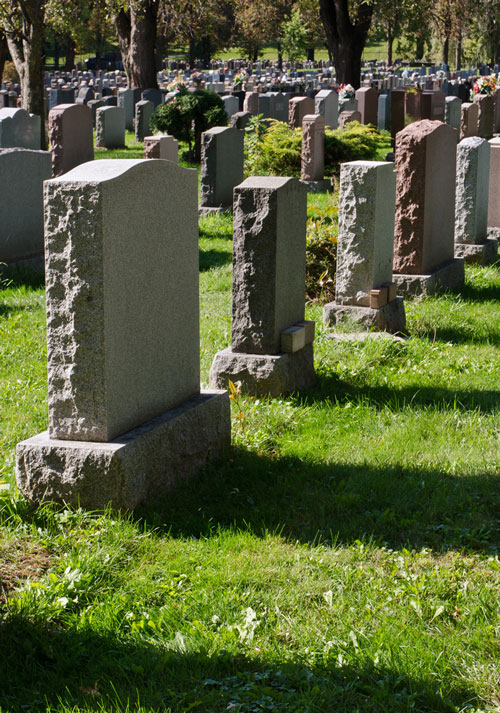 Add a Base to a Headstone
Over time you may find that your monument is sinking into the ground. St. Charles Monuments can add a base to a tombstone. Having a base will bring your monument up to grade level and also enhance the appearance of your family's memorial. In addition to this, adding a base can help prevent potential mower damage. Our bases will match the existing granite color of your family's memorial.
This process can be done in the cemetery and is effective in restoring the overall look and integrity of the headstone. By raising the monument, you will be able to keep the lettering and etchings visible. These aspects of the memorial are the most important because this is how your loved one will be remembered.
For More Information, Visit Our Showroom
on Wellwood Ave. in West Babylon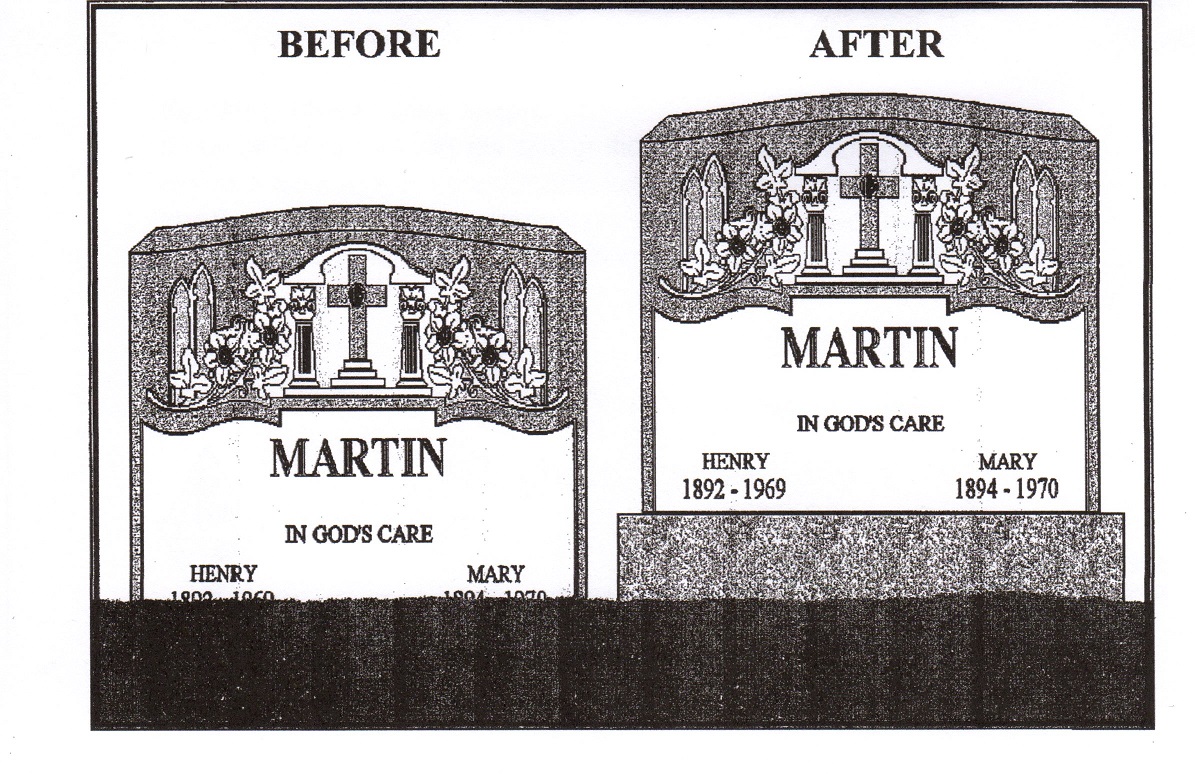 This illustration is proof of how much a base will enhance the appearance of your monument. Your family's headstone will appear larger in size and all important lettering will be more visible.
St. Charles Professional Monument Cleaning
Commonly enough, anything exposed to nature's elements for an extended period of time will become dirty or appear tarnished. Unless done professionally, it is suggested to not use any chemicals when cleaning a monument. In all honesty, we let our customers know using only water may be enough to clean their monument. However, St. Charles Monuments does offer professional cleaning services for memorials. Our cleaning service restore the original beauty of the monument.
With attention to detail, honesty, and in consideration of time, St. Charles Monuments will provide the desired memorial needs for your family's existing headstone.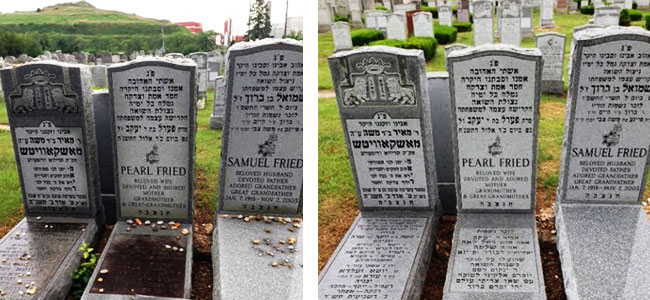 Monument Cleaning
Before & After