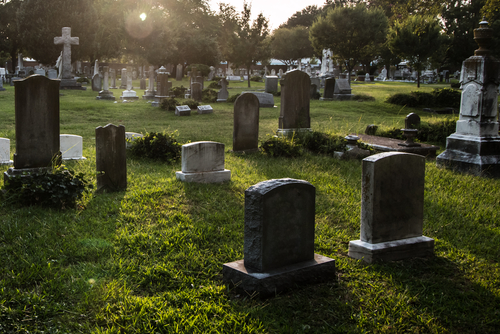 At St. Charles Monuments, we've served our Long Island community for decades. During times of grief and stress, we provide support and compassion. Of course, losing a loved one is the most painful and disorienting time in a person's life. However, we make it our mission to deliver unparalleled service that, hopefully, helps you through this challenging time.
One of the ways we help our community is by providing quality memorials to befit your loved one. We craft granite monuments, in different styles, to ensure they're the most fitting tributes to their legacy. Without a doubt, granite makes for an exquisite memorial for many reasons. In this post, we'll explore the 4 main benefits of choosing granite headstones.

1. Granite Provides Durability and Longevity
Of course, one of the top considerations when selecting a monument is its ability to last. When purchasing a headstone or memorial bench, you want it to last as long as possible. Also, you not only want it to last over the years, but maintain its luster for as long as possible. This is what makes granite an ideal material for a memorial!
Unlike many other materials, granite doesn't stain, deteriorate or shatter. In addition, its ability to withstand inclement weather is far superior to the alternatives. Granite headstones will remain alluring and intact, with its epitaphs and inscriptions for many, many years.
Furthermore, granite headstones naturally resist the discoloration and deterioration that affects other memorial materials in between seasons. One equally a href="https://www.stcharlesmonuments.net/the-best-choice-for-a-long-lasting-headstone/">long-lasting headstone material is bronze. However, over time, bronze will dull and discolor. This ruins the long-term appearance of headstones and grave markers.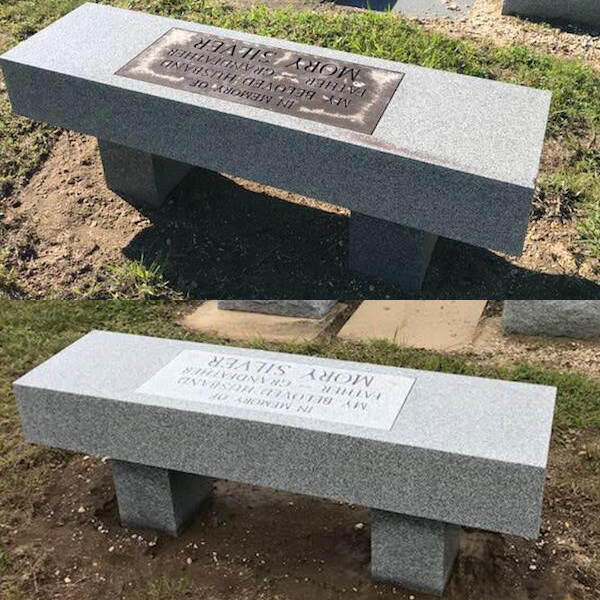 Granite bench cleaning – Before & After
2. Granite is Easy to Clean and Maintain
Naturally, we want our monuments to remain in great shape for as long as possible. Part of ensuring they stay beautiful is with regular cleaning and maintenance. Headstones will show the weather they've endured. However, granite is a much easier material to clean and maintain. Therefore, it is far simpler to keep beautiful.
In the event a granite headstone fills with hard water, moss or any other kind of debris, it's fairly simple to restore its original beauty. A little bit of water, a clean cloth, and a touch of dish soap is all you need to eliminate build-up and restore the headstone's radiant craftsmanship.
3. Granite is Versatile
When it comes to materials, granite is the perfect choice for crafting cemetery monuments. Artists and technicians can execute high-precision laser etching and sandblasting techniques flawlessly on granite. As a result, the headstone can feature virtually any image, symbol or inscription that you request. Nowadays, these techniques are the collective standard for excellent monument craftsmanship.
This kind of versatility provides you with the most diverse range of options for designing a memorial. Basically, you can order a headstone as specific, personalized, and meaningful as you wish. Granite memorials give mourning families the ability to create headstones with virtually any image, inscription or epitaph they wish. In addition, you'll have the opportunity to add new lettering in the future, if you need.
4. Timeless Beauty
Beauty is, perhaps, the simplest of all of these benefits, but easily one of the most important. Naturally, no one wants a headstone for their loved one that's overwhelmingly dull or unpleasant to look at. We want the memorials of our loved ones to be the perfect representation of their lives, legacies and their enduring impacts on our lives. Therefore, they must look as magnificent as our loved one deserves. This is yet another significant advantage of granite in headstone creation – it's simply the most beautiful option.

Choosing a Granite Headstone from St. Charles Monuments
At St. Charles Monuments, we have over twenty colors of granite to choose from – each with an extraordinary richness and texture. However, in comparison to other materials, granite will stand the test of time. You'll be able to care for your monument regularly to ensure it remains as beautiful as possible over the years.
At St. Charles, we aim to deliver a headstone (and experience) that eases the difficulty that comes in times of grief. Granite is one of the many ways we strive to help you pay tribute to your lost loved one, and provide you with a beautiful, worthy place to visit them in the years to come.