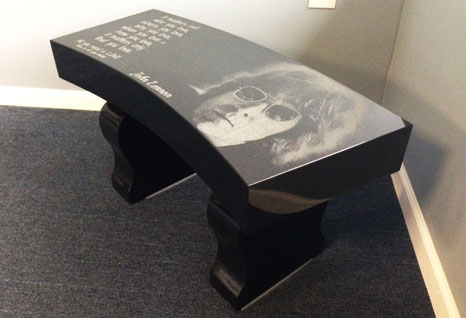 In addition to contacting friends and family, and scheduling a memorial service, selecting a memorial is difficult. Of course, there are several different options for a memorial, each with a slightly different focal point. At St. Charles Monuments, we believe that a granite memorial bench is an elegant, personal way to honor a loved one's memory.
A loved one's passing is a stressful time for the entire family. In fact, there's likely nothing more painful or disorienting. That's why the team at St. Charles Monuments hold our work in a solemn regard. We consider it our mission not only to provide monuments for Long Island, but to guide them through an extraordinarily difficult time.
Originally published on July 19, 2017, this post has been updated for relevancy and accuracy.
Custom Options & Personalization for Your Memorial Bench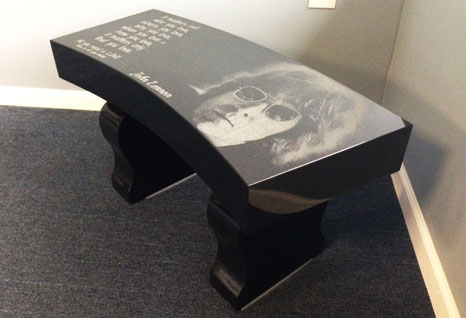 Just like standard memorials, there are several customization options for granite memorial benches. Beyond choosing the color, you can also choose size and shape. In doing so, you can still create a material representation of your loved one, fully representative of their life and legacy.
In addition to these aesthetic options, you can also embellish upon the bench in other ways. An inscription quoting a favorite author/musician, or a fitting epitaph is a meaningful way to create a memorial that truly reflects who they were as an individual.
Stand Out Amongst Upright Monuments
An individual burial plot can sometimes be difficult to locate amongst the numerous other gravestones. However, with a granite memorial bench, you can locate your destination immediately. The unique shape, distinct silhouette and larger scale of granite benches eliminate the challenge that you may have when visiting a burial site.
Create a Relaxing Atmosphere
A granite memorial bench encourages a sense of positive, respectful visits from family members and friends. Without a place to sit down in reflection, it can sometimes be difficult to pay your respects to loved ones.
Additionally, granite memorial benches give visitors the opportunity to relax and reflect on their times with loved ones. This makes for visitation sessions that are much more meaningful, and create a more relaxed atmosphere. A granite memorial bench makes for a much better environment for positive reflection.
Donate a Memorial Bench
Granite memorial benches can be placed outside the cemetery as well. If your loved one has been particularly influenced by or active in an organization, then donating a memorial bench will remind people of the importance of contributing to a cause.
Donating a bench in the name of a longtime school teacher, a devoted parish member, or a committed non-profit organization member will help keep the memory of an organization alive forever.
---
Conclusion
A granite memorial bench is a tasteful, purposeful and customizable way to construct a monument for your loved ones. Furthermore, it's a sophisticated and heartfelt way to remember family members, as well as a formative way to keep a legacy alive.
At St. Charles Monuments, we are dedicated to helping you create your ideal monument. Contact us with any questions or special requests.
Note: Due to space regulations, some cemeteries will not permit memorial benches in place of a headstone. Please verify with your cemetery before purchasing one.