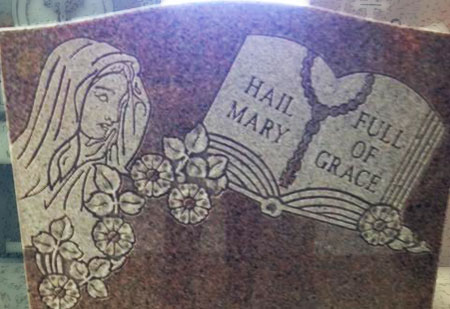 When making funeral arrangements, selecting an epitaph can be a difficult and emotional process. Selecting a fitting inscription for a personalized monument is as important as choosing the right headstone for your loved one. At St. Charles Monuments, we understand that an epitaph should positively encapsulate one's life. Inscriptions of various lengths can be included in our monument specials packages.
There are many non-religious epitaphs that can remind visitors about their life's accomplishments. Here are some of our favorite non-denominational epitaphs that are meaningful and applicable for many people.
Secular Epitaphs
An epitaph that is secular, or does not apply to any one religion exclusively, can be used for any tombstone. This means that they can be used on non-denominational, Christian and Jewish headstones. Many of these secular epitaphs will still express the positive values depicted in religious epitaphs. However, they will also take a more humanistic approach, referring more to personal relationships than one's relationship with God.
These are some of our favorite non-denominational epitaphs, along with a brief analysis of them. All of these epitaphs can be selected for personalized monuments.
"To the world you may have just been somebody,
but to all of us you were the world.
Thank you for the time you spent here!"
This deeply affectionate quote is fitting for somebody revered by a group of people. In situations like the death of a parent, good friend, or another loved one, this quote will remind all who visit the memorial of time spent with their loved one, and the positive impact they made.
"Life is not measured
By the number of breaths we take,
But by the moments
That take our breath away"
This passionate epitaph is emblematic of a busy, activity-filled life. When a loved one who enjoyed traveling, emphasized world experience or strived to create memories passes away, this epitaph will capture their essence
"Your presence is a gift to the world,
You're unique and one of a kind.
Your life can be what you want it to be
Take it one day at a time."
This quote can be interpreted in two ways. It can be applied to your loved one, but it can also be interpreted as the loved one speaking to the reader.
"Don't mourn my loss, whatever you do
My leaving brings you closer to the loved ones
I have left behind and all the joys the future holds"
This quote speaks to one of the greatest ironies of death– that through hardship, we become closer to one another.
"No pain, no grief, no anxious fear
can reach our loved one sleeping here."
When we lose a loved one who had a difficult life or endured hardships through their final years, the end of this pain can be a relief for the family. This epitaph will serve as a reminder of this sentiment to all who visit.
Here are some profound single-line epitaphs:
"Fond Memories Linger Every Day, Remembrance Keeps You Near"
"Time Cannot Steal The Treasures That We Carry In Our Hearts"
"We Have Loved You In Life.. Let Us Not Forget You In Death"
Unable to find exactly what you are looking for? Take a look at some of our religious, literary or gender-specific epitaphs for more options. Or take a look at our epitaph selection guide.
St. Charles Monuments is dedicated to helping you during your difficult time by providing an easy headstone and inscription selection process. Contact us for more information about how we can create quality monuments for your loved one.