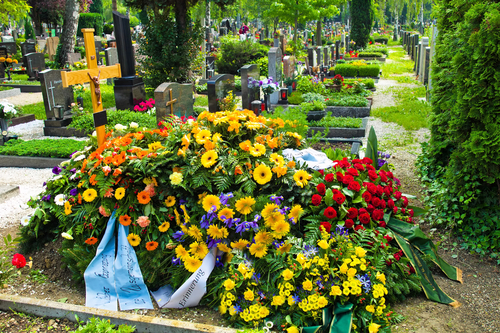 One universal tradition (regardless of culture, religion, ethnicity or nationality) is bringing gifts to a loved one's grave. Many bring photographs, flowers, or mementos that possess a certain emotional resonance. One of the unique traditions that many find especially comforting is placing a grave blanket on the burial site. This is an enduring custom that continues today, and the holiday season is a time of year that sees the most people practice it. When winter arrives, a blanket on the grave of a loved one can feel comforting and perhaps even inspire a sense of peace. In this post, we'll discuss grave blankets, their possible origin and the sentiments they symbolize.
At St. Charles Monuments, we consistently take every measure necessary to make our clients feel heard, understood, supported and listened to. The aftermath of a loved one's death is the most unspeakably difficult period in anyone's life. Therefore, we do all we can to guide you through the monument selection process with the utmost of sensitivity and respect. In addition, we strive to ensure that we honor any and all timeless family traditions you may hold in high regard.
Possible Origin
It's difficult to locate any definitive history on grave blankets. It's possible that it originates from the Jewish custom of mounding graves. This involved a grave being raised above the surrounding ground to illustrate that the deceased was a relative. Of course, most cemeteries no longer permit this. Therefore, a grave blanket's placement serves as a reasonable alternative.
Another theory speculates that this tradition originated during the days of the Puritans. Naturally, the colonists and settlers of this period confronted brutal, unyielding winters every year. Therefore, following a loved one's burial, they would gather pine cones and branches. The Puritans viewed these gatherings as symbols of warmth and comfort.
How Are They Made?
Grave blankets are especially popular during the holiday season. The modern grave blanket is made out of evergreen boughs and attached to a wire base, wood, or a floral form. Also, they can be attached to the ground to anchor them in place and prevent them from blowing away. As there are different styles of cemetery monuments, there are also numerous grave blanket styles. Most grave blankets are accentuated with ribbons, pine cones, or ornaments. This gives the blankets a festive feel for the holidays.
When people make their own grave blankets, this usually becomes a heartfelt tradition in and of itself. Usually, the family preparing their visit will crafts new blankets every year. In addition to being a sincere way to honor their departed loved one, it also provides them with the opportunity to engage in a constructive hobby together. As a result, they often feel a sense of solace and consolation during a difficult time.
However, if you're not particularly proficient with crafts, you can simply purchase a grave blanket. Most local florists sell grave blankets. Also, they can assist you in personalizing/customizing the blanket to reflect whoever it's for. Putting together a grave blanket can feel a lot like choosing a headstone inscription. Naturally, you want it to be the best reflection of your loved one. Most families place new grave blankets every year. Therefore, you have countless options for different styles and decorations in the future.
A Symbol of Eternal Love
Of course, we know that blankets aren't essential to a grave. However, it's important to appreciate what they symbolize. Most families see this custom as something to keep their loved ones warm and honor their memories.
It's a fond way to continue showing love to the deceased. It also provides us with a feeling of their continued, eternal presence in our lives. Grave blankets are a physical manifestation of our enduring love for those we've lost.
If the notion of making a grave blanket sounds comforting to you, there are many instructional resources available online, or at your local florists. Prior to placing one, be sure to verify your cemetery's policies. Each cemetery has different rules and guidelines regarding this tradition. However, the vast majority of cemetery types do not restrict or prohibit grave blankets. Ultimately, this can be a lovely way for you to honor anyone you may have lost.
Conclusion – St. Charles Monuments
St. Charles Monuments works every day to provide our Long Island community with the guidance and support they need during a challenging period. Part of our contributions to the legacies of lost loved ones involves upholding and honoring the traditions that date back several generations. Grave blankets are one of the universal customs that countless families uphold in order to pay tribute to their departed loved ones.