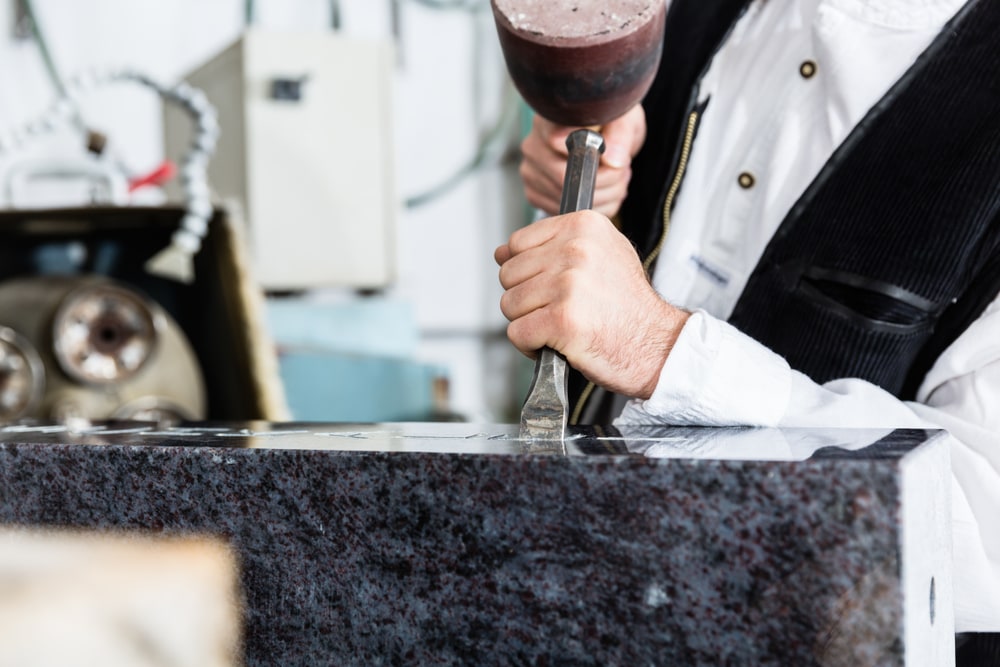 Since every person's life is a singular and unique experience, their headstones should be equally as unique. In fact, most of us view monuments and headstones as a permanent, enduring tribute to one's life. Many people make the choice in life to pre-purchase a monument. Unfortunately, others die unexpectedly or without these resources, and their families must make this purchase on their behalf.
In some cases, families request posthumous monument engraving. This is all part of caring for a monument. In this post, we'll explain how this works, and why people purchase new lettering for a monument.
1. Death of a Spouse 
This is probably the most common reason to add new lettering to a headstone. Often, when an individual loses a spouse, they arrange for a double headstone in advance. This headstone generally features the names of both individuals, as well as the birth and death date of the deceased. However, for the living person, there will be no death year.
So, when the surviving individual eventually passes away, they can still share a gravesite with their spouse. Regardless of the circumstances, this is a budget-conscious and meaningful way for couples to be laid to rest together.
2. Death of Young Children 
Sadly, couples are not the only people who share family plots. In the tragic, unfortunate circumstances of an early death, it's common for children to be buried alongside their parents. This can put the minds of parents and other family members at ease. They view it as the parents keeping watch over their children. This is also the case for children born with a serious physical or mental disability.
Whether the parents or the child die first, it's common for them to leave a plot open for another individual. Ultimately, when they pass away, the death date is inscribed by a monument engraver.
3. Adding a New Epitaph
When ordering a memorial, there are a lot of considerations to make. Should you order a flat marker or an upright headstone? What material should the headstone be? What color should it be?
One of the most difficult considerations is the choice of the epitaph.
An epitaph is a short poem, adage, dedication or scripture snippet that characterizes the deceased. The epitaph seeks to memorialize the individual by helping family members to cherish their memory eternally.
When a person dies unexpectedly, the family may not be able to select an epitaph right away. This is a stressful and emotionally taxing time. Deciding on an epitaph at a later date allows them to coordinate monument engraving at any point.
4. Embellishing With New Symbols
Aside from the epitaph, there are other creative choices that families can make to individualize a headstone. One such choice is the symbols included on the headstone.
Depending on the lifestyle and religious beliefs of an individual, there are a variety of symbols that one may select. For example, the moon often represents rebirth and victory, while the triangle signifies the Holy Trinity. The heart symbolizes devotion to the departed, and the anchor a love for the ocean.
For headstones with empty space, adding a symbol can help represent the identity of the deceased. Monument engraving is a simple way to do this, even after the headstone has been installed.
The Process of Monument Engraving
In the earliest days of monument engraving, professionals would spend days manually performing this process. With modern technology, the monument engraving process is much simpler and much more efficient.
1. Image Rendering: Using CAD software, the headstone artist can fully render the headstone design. This includes the individual's name, date of birth and death, and potentially an epitaph.
2. Template Creation With the CAD image, the headstone artist designs a template for the monument's inscription using a specialized template. The artist uses a special tool to remove the filling from the letters and designs, creating a fully unique template.
3. Sandblasting: After the design is complete, it's attached to the monument. Using specific equipment, the sandblasting process applies extreme heat to the necessary area of the headstone. This removes the polished layers of granite in select areas, creating text and a design.
4. Fine Details: Finally, the engraving artist adds finishing touches by hand. This ensures gorgeous, outstanding detail.
However, after a headstone's been implanted in the ground, it's still possible to engrave additional inscriptions.
To alter an existing memorial, our monument engraving artists can use special tools on the monument itself. This is an extremely quick and easy process, and does not disturb the grave site. Below, we've gathered four reasons to add new lettering to a monument.
Conclusion
At St. Charles Monuments, our mission is to help all grieving families fulfill their monument needs. We understand that these needs do not end after making a headstone purchase. With monument engraving services, we hope to help create lasting and meaningful memorials.