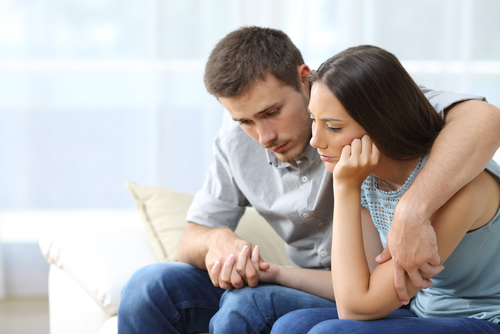 As COVID-19 sweeps through the country, confining us indoors and overwhelming our health care system, times are difficult for all of us. Most of us are not accustomed to dealing with quarantine, let alone the mounting losses. Unfortunately, on a daily basis we're dealing with an increasing number of casualties. At St. Charles, we maintain a firm commitment to serving our community in times of loss and grief.
During times like this, it can feel overwhelming, to say the least. Below, we've assembled some helpful information on coping with the loss and uncertainty of the current situation unfolding across all different cultures.
COVID-19: A Unique Kind of Loss
At the moment, the kind of grief we're experiencing is very unique. Losing a loved one under the most normal circumstances is painful enough. However, losing a loved one right now is particularly overwhelming. Essentially, what we're dealing with is an especially unique scenario.
Jane Webber, professor of counselor education at Kean University in New Jersey, compares our current mentality to that of victims of wars and terrorist attacks. Unfortunately, if we lose a loved one now, we're unable to see their bodies or assemble for funerals. We're trapped in quarantine and unable to see or comfort each other. Sadly, that makes the grief we're feeling all the more painful and difficult to manage. However, below you'll find some helpful ways to cope with your loss.
1. Acknowledge Your Grief
First and foremost, it's imperative to allow and acknowledge your grief. Essentially, what this means is that you should actively practice self-compassion. Often, in times like this, the first instinct of many is to immediately criticize themselves.
During a crisis like this, many of us punish ourselves for "not keeping it together" or "not handling it well." It's important for you to allow yourself to experience your grief and not judge yourself for it. Basically, it all comes down to placing blame on yourself – which you should never, ever do.
2. Stay Connected
Maintaining a connection to friends and family is critical right now. Obviously, so many of us are feeling the consequences of isolation. However, this kind of isolation in combination with loss can lead to us losing contact with friends and family.
Often, when grieving we simply don't feel like picking up the phone to call anyone. Right now, it is essential that we maintain contact with our loved ones in order to heal and cope with our isolation. If you have to, make arrangements to speak to others at specific, appointed times. This kind of routine will help remind you to stay in touch with others.
3. Avoid the News
Obviously, we want to be as informed as possible right now as this crisis unfolds. It's sensible to want to know as much as we can. However, many of us don't understand the subconscious effect that watching the news can have on our mental state or stress levels.
Very often, the news can feel ominous or overwhelming. Therefore, it's probably in your best interest to limit the amount of time you spend watching it. Ultimately, if you're trying to cope with loss, avoiding the news can be an enormous benefit.
4. Alternate Between Mourning & Healing
When it comes to grief, it can easily consume us. However, there's a "dual process" approach that many consider very helpful in times of bereavement. Essentially, what this means is you should alternate between a focus on grief and a focus on healing.
While it might feel difficult initially, you should spend as much time on a hobby you enjoy as you do on mourning a loved one. Try exercising, or maybe an artistic activity. You can also work on unique ways to memorialize your loved one. This "dual process" technique can ultimately help you to heal much faster.
Conclusion – Stay Safe
While times are difficult for all of us right now, this too shall pass. At St. Charles, we're committed to helping Long Island heal in times of grief and loss. We're here to help guide you through your losses, regardless of the circumstances. Remember: stay inside, wash your hands and stay safe!