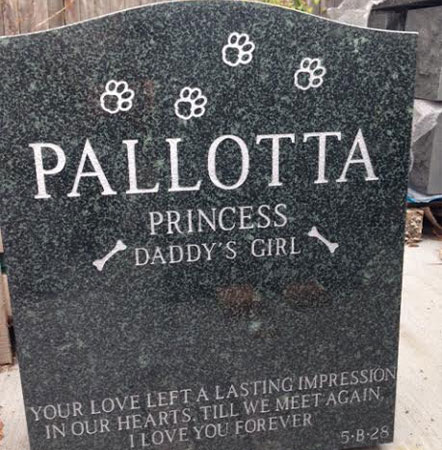 At St. Charles Monuments, we have many years of experience serving our community and guiding them through some of the most difficult and stressful times of their lives. When it comes to respectfully bidding farewell to a loved one – whether it's a monument engraving, custom memorial or headstone specials, Long Island has relied upon us to assist them in their specific requirements. This includes pet memorials.
St. Charles Monuments has always operated with the utmost of sensitivity and compassion. We aim to do everything in our power to help you and your family say goodbye to a loved one in a way that pays tribute to their life. We also believe that any and all family members deserve an appropriate memorial, and that includes our pets.
Our pets are a special and beloved part of our families. The grief over the loss of a pet can be just as profound and painful as the loss of a relative. Culturally, the roles' our pets play in our lives are becoming more and more important. Dogs have always been considered "man's best friend," but lately, their emotional value has only increased. Recent studies have found that 44% of people born between 1981 and 1996 (in other words: millennials) view their pets as their children.
Since our pets, whether they are dogs, cats, or any other creature that we adore, have become such an important and treasured part of our lives, saying goodbye with a custom memorial is an essential way to honor them. Losing a pet is devastating, and below we've gathered some recommendations on coping with the loss of yours.
4 Ways to Memorialize Your Pet
1. Create a Pet Memorial
At St. Charles Monuments, we offer different services to help you create custom pet memorials. Memorializing your pet is a perfect way not only to mourn, but also to celebrate all of the countless moments of joy and unconditional love they have provided throughout the years.
Our granite memorials and natural-looking boulder memorials are some of the ways in which you can bring about a sense of closure and heal from their loss. A custom memorial will also remain a fitting monument, which you can regularly visit in the future. These memorials are not only exquisite representations of your pet's life, they're also important ways for you to heal.
2. Create a Memorial Fund or Scholarship
There are numerous ways to honor the life and impact of your pet. Many pet parents have elected to establish the legacy of their pet by creating a scholarship in their name.
In fact, several students of veterinary medicine have been able to finance their education with the generosity of scholarship funds. By creating a scholarship in the name of your pet, you can ensure your pet's memory lives on. You can also help future animals in need of medical attention by financing the education of aspiring veterinarians and veterinary technicians.
3. Volunteering & Donations
It is not difficult to find an animal shelter or rescue organization in need of assistance. Most of them are non-profit organizations that rely on charitable donations in order to continue operating and helping animals in need.
Donating to a shelter or rescue in your pet's name is a beautiful, and important, way to honor your pet. Even simply donating food, blankets, newspapers or supplies is a worthwhile gesture that can help many animals currently waiting to be adopted. Volunteering or donating is a lovely way to memorialize your pet by putting your love into action.
4. Make a Keepsake Memory Box
Bereaved pet owners can honor and remember their pet by creating a keepsake memory box. This is a perfect way to regularly reflect on the bond you shared.
There are numerous ways to use your creativity. Not just on the design and look of the box but on its contents as well. Many animal hospitals will provide you with your pet's paw print in the event that they pass away. Additionally, a lock of hair, a collar, or their toys will make perfect additions to the box. The contents of the box are a permanent validation of the love and memories you shared.
Conclusion
At St. Charles Monuments, we respect any and all needs our community might require. Contact us today to discuss pet memorials, and we can assist you in creating a perfect tribute to your furry loved one. We're here to accommodate you in any way we can.