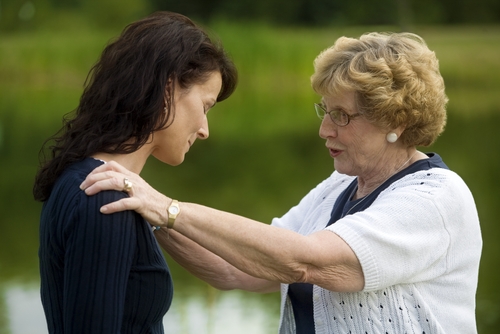 Death is something we will all face eventually. It's simply unavoidable. Because of that, we all know that when the time comes, you would hope your loved ones will be present for you in your final days. Part of the reason people feel anxious about visiting a dying friend is because they don't want to say goodbye. That's a very difficult situation and a tough conversation to have. What can be worse though, is if you miss that conversation altogether. The pain of losing a loved one will only become amplified with the guilt of not being there to say goodbye.
If you truly care about your friend, then you know you should go and visit. Friendship is being there to support a person through the good times and the bad. It's important to think about your friend and what they're going through. Yes, you may feel uncomfortable because you know what's going on. But you should imagine what your friend is facing. Just being there for them can be comforting and inspire priceless feelings of gratitude. When you go, you don't have to talk about memories and the things you'll miss. Just be there to be a friend and have a conversation like you've had countless times before.
What to Say to Someone Who's Dying
Despite how difficult or uneasy you may feel about talking to a dying friend, it can't be said enough how important it is to speak with them. Part of what makes these situations difficult is the awkwardness that comes from talking about end-of-life planning and what is soon to happen. Your friend may feel just as awkward as you do about bringing it up when you speak. One way to ease into this conversation is just by asking questions about how they're doing. Get rid of the elephant in the room and just ask questions, let them decide how much they feel like sharing. With that being said, make sure to watch for verbal and nonverbal cues. They may not want to talk about this so listen, watch, and adjust accordingly.
Sometimes, people just need someone there to listen to them. When you're visiting a dying friend, you can sometimes say more with less words. Just being there to hold their hand and let them vent, being a kind of support group, can be helpful. What they are going through is scary and overwhelming. Just being there to sit with them and let them express how they are feeling can be more than enough.
You may never know which conversation will be your last, so don't wait until it's too late. If you wait until they're near the end, you might find yourself feeling guilty and upset that you didn't spend more time with them sooner. Since the future is unknown, make sure you're satisfied with your goodbye. You don't have to become overly emotional but don't be too casual either. Make sure that they know how important they are to you and that your goodbye is heartfelt.
Conclusion
We sincerely hope this has demonstrated why you should visit a dying friend. We understand that you may feel uneasy about making the visit, but we assure you that you'll feel good about yourself afterwards. In addition, your friend will greatly appreciate your presence. For more tips and advice, do not hesitate to reach out to us. At St. Charles Monuments, we've spent decades providing support and guidance to our Long Island community with regards to handling these sensitive issues. Contact St. Charles Monuments for more information now.