Over the years, St. Charles Monuments has built strong working relationships with many cemeteries throughout Long Island, Brooklyn, and Queens. One of our longest affiliations has been with St. John's Cemetery in Middle Village NY. St. Charles has worked with St. John's for many years, providing the cemetery with monuments, products, and services for families of the local community.
About St. John's Cemetery
St. John's Cemetery is located at 80-01 Metropolitan Avenue Middle Village, N.Y. The cemetery was established in 1881 by Bishop John Loughlin, the first Bishop of Brooklyn. St. John's Cemetery This large and scenic cemetery totals 190 acres of land.
Within St. John's Cemetery is a section called 056. It is dedicated to provide resting places for Diocesan Priests as well as many other religious congregations.
St. John's Cemetery is part of the Saint John's Cemetery Corporation. It made the transfer from the Diocese of Brooklyn to Saint John's Cemetery Corporation in 2007. Saint John's Cemetery Corporation now owns all the cemeteries for the Brooklyn Diocese. This includes Brooklyn's Holy Cross Cemetery, Mount St. Mary in Flushing, and St. Charles/Resurrection Cemetery in Farmingdale.
Cemetery Rules & Regulations
As do all cemeteries, St. John's Cemetery has specific rules and regulations regarding visitor conduct and decorations. Although cemetery management sympathizes with the feelings that occur during the painful time of losing a loved one, these rules are put in place to provide a delicate balance between visitors and management. The goal is to keep the cemetery orderly and maintained to its reputable standard. For a complete list of rules and regulations, please see the Planting and Decoration Regulations.
St. John's Cemetery also enforces rules regarding decorations that you may want to leave at the grave of a loved one. Management understands and supports actively remembering your departed loved ones. However, regulations regarding decorations are enforced to maintain the beautiful and peaceful atmosphere of the cemetery.
Some general rules that involve general visitor conduct and decorations include:
Vehicles that enter the cemetery will not exceed 10 miles per hour.
Children under 16 years of age are not permitted within the Cemetery unless accompanied by an adult.
Animals are not permitted in the cemetery.
The use of ornaments, statuary, shells, Christmas tree decorations, glass or crockery jars and containers, barriers, and other decorations shall not be permitted on any grave, plot, or memorial and such articles shall be removed by the Cemetery Authorities without notice.
Cemetery Management cannot be responsible for any plants or decorations left at graves.
After the burial service, the cemetery management reserves the right to remove and dispose of all floral pieces.
No photography of any kind if permitted at the cemetery.
The picking of flowers or disturbing plants and shrubbery is prohibited
St. John's Cemetery reserves the right to remove any decorations that may have deteriorated as they will affect the overall beauty of the cemetery
Emblems of non-religious organizations are not permitted on graves or plots. Notwithstanding, the emblems of police and firemen may be permitted in the sole and absolute discretion of the Cemetery Authorities.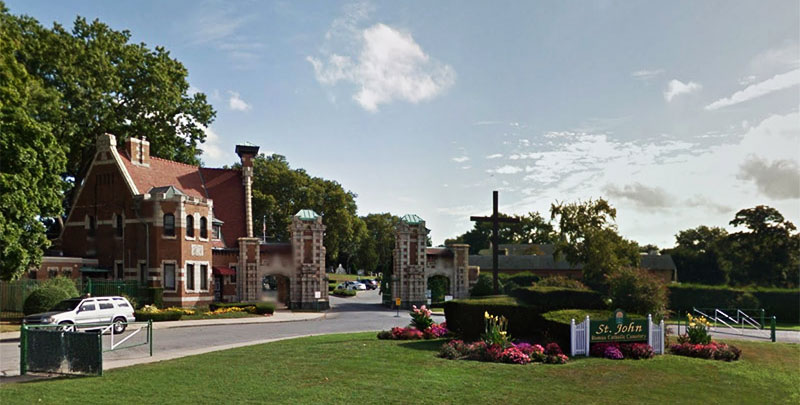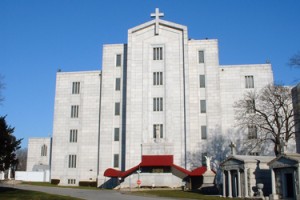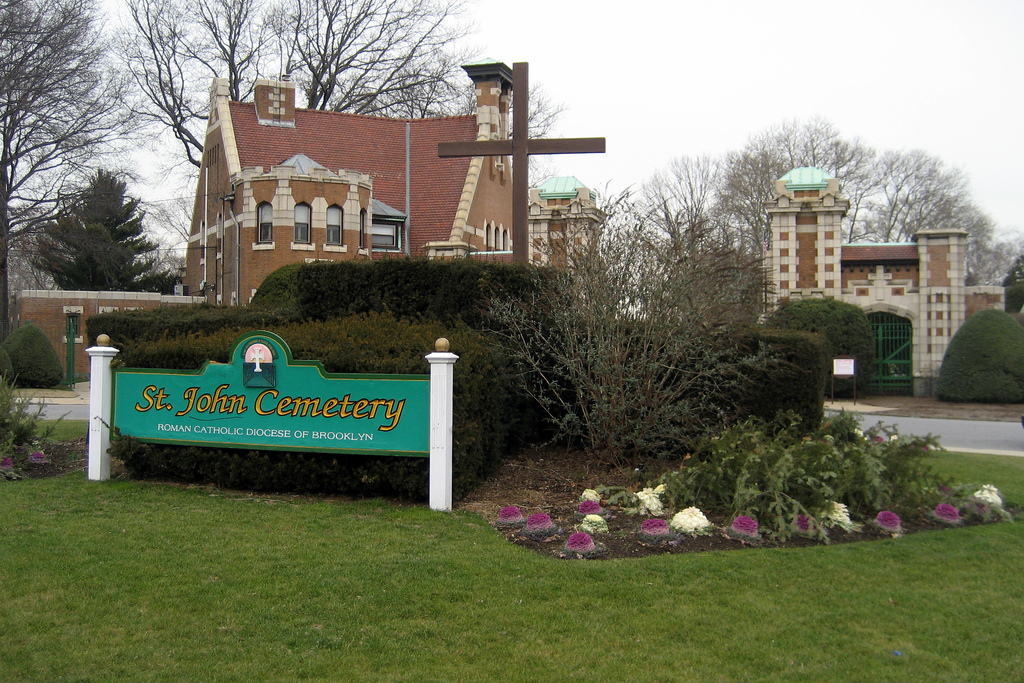 Hours of Operation
St. John's Cemetery is open seven days a week from 8:00 a.m. – 5:00 p.m including holidays. The offices are open Monday through Friday from 8:30 a.m. to 4:30 p.m. and Saturdays: 9:00 a.m. to 1:00 p.m. The office is closed on Sundays and Holidays.
St. Charles Monuments is proud to work with St. John's Cemetery on a very regular basis. For updated information you may call St. John Cemetery's office at (718) 894-4888, or call St. Charles Monuments at (631) 694-0943.