About Cedar Grove
With their first recorded burial in July of 1893, Cedar Grove Cemetery has a long record of serving the Flushing, Queens community in which it is located. Cedar Grove Cemetery is a non-sectarian cemetery, meaning that people of all different faiths are buried within the 35 acre property. The diversity of those buried within the cemetery is reflective of the diversity of the New York metropolitan area population, with African, South American, Armenian, Chinese, Indian, Latin, Russian, and people of many other races buried there.
Regulations
As a non-sectarian cemetery, Cedar Grove has graves that allow for 3 deep burials. They do not require a vault for burial.
Additionally, burying cremated remains in a grave site or private mausoleums is a common practice.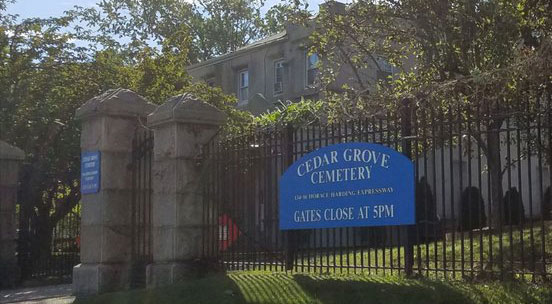 Hours of Operation
The Cedar Grove Cemetery gates are open 7 days per week from 8:00am to 5:00pm
The Mount Hebron Cemetery gates are open Sunday through Friday, from 8:00am – 5:00pm
Address
130-04 Horace Harding Expy
Flushing, NY 11367
St. Charles Monuments is proud to work with Mount Hebron Cemetery on a very regular basis. As the Cedar Grove Cemetery does not have an office, all inquiries must be directed to the conjoined Mount Hebron Cemetery. For updated information you may call Mount Hebron's office at (718) 939-9405, or call St. Charles Monuments at (631) 694-0943.