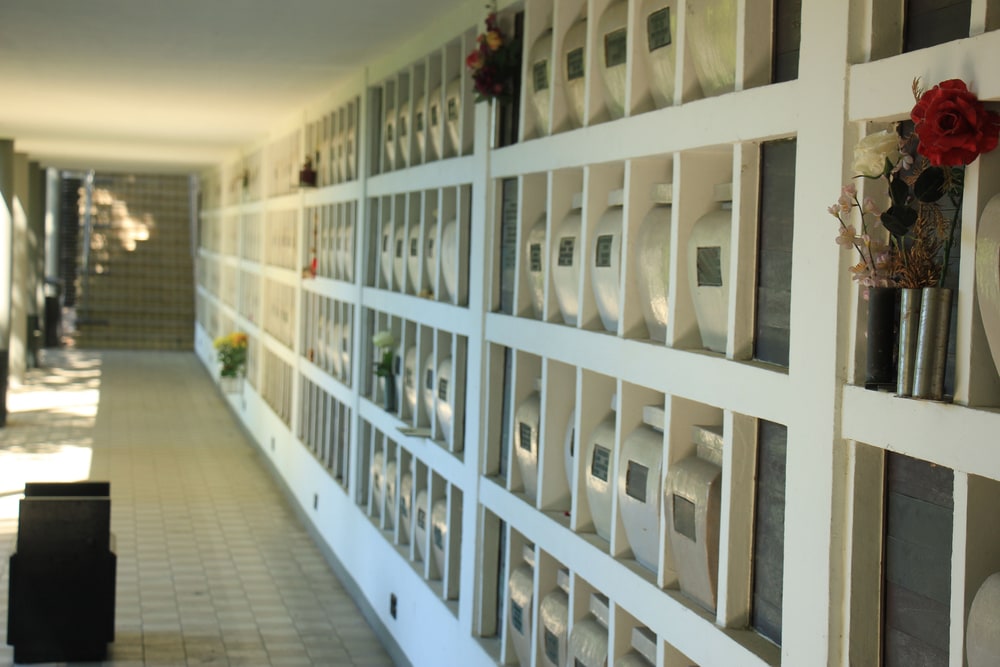 Losing someone you love means that planning may be the last thing on your mind. When it comes down to it though, there are many choices to be made at the end of life. You shouldn't have to do it alone. That's why at St. Charles Monuments we're here to help you navigate every step of the way. We have been family owned and operated since 1938. Therefore, we truly understand the importance of finding the right way to memorialize and honor your lost loved one.
There are many options when it comes to choosing a monument, selecting a cemetery, and all the details in between. We are committed to helping the people of Long Island. You should be informed and understand all of their choices.
What is a Columbaria?
Columbaria can be indoor or outdoor structures. They are built to house urns after the cremation ashes are placed in them.  Columbarium can be stand-alone walls. Otherwise they can be connected to a place of worship. Particularly, churches, temples, or mausoleums have attached columbarium in a designated wall or room.
Each urn has a designated niche space. It is a final resting place for a loved one, just as a grave with a headstone would be. A plaque is placed for each niche. This plaque serves as a marker to identify the person being memorialized. Depending on the cemetery or facility regulations, the design and color of the plaque can be personalized.
History of Columbarium
Columbarium Niches date back to ancient Roman times. Niches were first created to house doves. Further, the Latin word "Columba" means dove. Cremation was a common practice in ancient times. The columbaria served as a place of worship and reflection for those who had lost loved ones. Surprisingly, columbarium around the world have been a focus of archaeological study for decades. Ancient columbarium were adorned with stucco and elaborate tile mosaics. Furthermore, throughout history it's noted that columbaria were also built underground.  Crypts were dug beneath churches and other holy places to build columbaria where people could lay their loved one's ashes to rest.
History of Cremation
Cremation is another practice that dates to biblical times and the stone age. The first known cremation is dated back to 3000 B.C. It is a process used to preserve the memory of the deceased. Cremation has been used for centuries across a variety of religious and cultural backgrounds.
Why Chose a Columbarium?
For those of us who want to cremate our deceased loved one, we are left with some questions. Particularly, it is the logistics that leave us thinking.
Who will receive the ashes?
How many loved ones will there be who want to hold ashes?
Will we put up a monument or memorial elsewhere to visit?
All of this can be answered when choosing a Columbaria.  Columbaria are a beautiful, dedicated places for the deceased. They help to provide the same catharsis to those visiting that a grave with a headstone would. Therefore, it eases friends and family who want to visit. Indoor Columbarium, where available, provide privacy. It is an intimate setting to reflect and visit your loved one.
How to Choose the Proper Columbarium
Columbaria are available at a wide range of cemeteries. Firstly, you should examine your budget. St. Charles Monuments will be able to find you the perfect memorial spot for your loved one. There are different options when choosing a columbarium. Subsequently, niches are built for single urns or they can be large enough for two. Whether your needs require a standard or custom columbaria, we can make every detail come to fruition. With custom columbaria, we are able to construct them with the help of an architect in private locations, or where facilities allow for customization.
How We Can Help
At St. Charles Monuments, it is our purpose to be there for you in choosing the perfect way to remember your loved one. Undeniably during this difficult time decisions require a little more time to process and understand. We have been helping people across the tri-state area for decades. Let us answer any questions you may have, you're not in this alone.