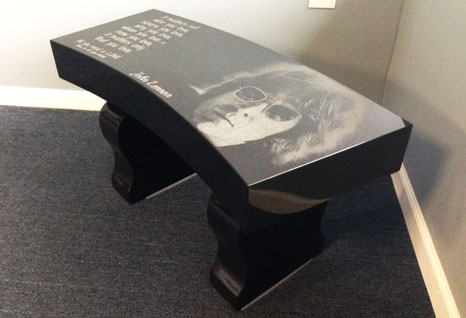 At St. Charles Monuments, we can acknowledge the mythical place celebrities and legendary figures occupy within our culture. Many celebrities and historical figures have custom memorials that pay tribute to their extravagant lives. From Elvis Presley to Harriet Tubman, their final resting places have immortalized their legacies. Likewise, they're places for their admirers to continue paying their respects.
The brightest stars have captured our culture's hearts and imaginations. Musicians, actors, writers, scientists and revolutionaries have staked a corner in our history and are celebrated long after death. And, in many cases, the stars become truly legendary figures after they pass away.
We've researched some of the most famous resting places in the world for some of history's most notable figures.
1. Elvis Presley
Elvis Presley is considered one of the most definitive figures in pop culture and "The King of Rock and Roll." As a result of his status, he's recognized by his first name alone. He died of congestive heart failure at the age of 42 on August 16th, 1977.
Elvis is buried in the Meditation Garden at Graceland Mansion in Memphis, Tennessee. As Elvis's home for the final twenty years of his life, Graceland is a fitting resting place.
More than 75,000 people were present at Elvis's burial. Because he was so beloved, mourners were spread out for miles down Elvis Presley Boulevard.
2. Harriet Tubman
Harriet Tubman was an American abolitionist and political activist. Certainly her name is synonymous with the Underground Railroad: a secret network of safe houses used to bring enslaved African-Americans to freedom during the 1800's.
Tubman was born into slavery in Dorchester County, Maryland and escaped to Philadelphia in 1849. Then, she returned to Maryland to rescue her family and soon helped free scores of other slaves.
She died of pneumonia at the age of 93. Harriet Tubman was buried with military honors at Fort Hill Cemetery in Auburn, NY. And, admiring mourners continue to visit her memorial to this day.
Furthermore, her portrait will be printed on U.S. twenty-dollar bills after 2020.
3. William Shakespeare
The name "Shakespeare" alone remains relevant to this day. He is considered the greatest playwright in history. William Shakespeare's plays continue to be performed, adapted into movies and inspire original works. Moreover, he invented over 2,000 words that we still use today.
Shakespeare passed away on April 23rd, 1616 at the age of 52. He was buried at Westminster Abbey in London, England. As a postmortem joke, his grave is inscribed with a dire warning. In essence, it threatens anyone who might move his bones with a curse. Because of this threat, special care was taken not to disturb his grave during a restoration.
4. George Washington
George Washington was a Revolutionary War leader, a Founding Father and the very first president of the United States. His portrait is printed on the United States one-dollar bill.
He was born on Wakefield, his family's plantation in Westmoreland County, Virginia. He passed at his home in Mt. Vernon, Virginia on December 14th, 1799. He is laid to rest there to this day, alongside his wife Martha.
5. Stephen Hawking
Stephen Hawking was a physicist, cosmologist, and author. International bestseller A Brief History of Time is among his many achievements.
He committed his life to the research of popular sciences and was considered one of the most definitive sources in his field. He was a recipient of the Presidential Medal of Freedom because of his contributions to science.
After living with ALS for most of his life, Hawkins passed away at his home on March 14th, 2018. Hawkins was was buried at Westminster Abbey in London.
In a fitting tribute to Hawking, a black hole is engraved on his memorial. Above all, the black hole was Hawking's favorite subject to study throughout his lifetime.
Conclusion
These are just a handful of some of the world's most notable resting places. Mourners and admirers continue to visit them on a daily basis. These sites are immortal tributes to the lives and legacies of the notable figures we've lost.